360° Screens
Dual Image Projection Screen
This unique projection screen technology produces a perfectly viewable image on both sides at the same time with 180° angle of visibility, creating the world's first 360° projection surface. Providing the flexibility of front or rear projection for those difficult installs. Available in three standard screen types and as a material cut to size off the roll – standard material or glue backed version to apply directly to glass or Plexiglas.
360° Electric Roll-up Screens
Standard screen sizes (diagonal) 60", 80", 100" (4:3 aspect) and 120" (16:9 aspect). The 360º screen material is installed into the housing that we use for our Platinum Vision electric roll up screens. This screen comes complete with a handheld RF remote switch unit to retract the screen material into the housing.
360° Clear Acrylic Screens
Pro Display offer a range of 360° screens where the material is applied to an optically clear acrylic panel, with the option of a clear outer border. These screens have been designed to work in conjunction with our weighted cable suspension system or our tear drop cable fixing for larger screen sizes. Standard screen sizes 40", 50", 60", 80", 100" and 120" diagonal (16:9 aspect ratio) – options available in 4:3 aspect ratio.
360° Poster System
This is a new type of manual 360º screen where the film material has a top and bottom fixing bar and is suspended on a wire cable system. The standard screen sizes are 40", 60", 80", 100" (4:3 aspect ratio) and 120" (16:9 aspect ratio). Custom screen sizes and portrait screens available upon request.
360° Screen Material
Our 360º screen material is sold off the roll, with the option of the standard material or the glue backed version to apply directly to glass or Plexiglas. The screen material is sold by the linear metre and the roll width is 1.6 metres (63").
Installation
Pro Display offer a complete range of fixing systems which includes wire cable and rod suspension systems, aluminum frames and portable screen stands.
For further information please see our Projection Screen Accessories. To add sound to your screen solution please take a look at our Soundpod technologies.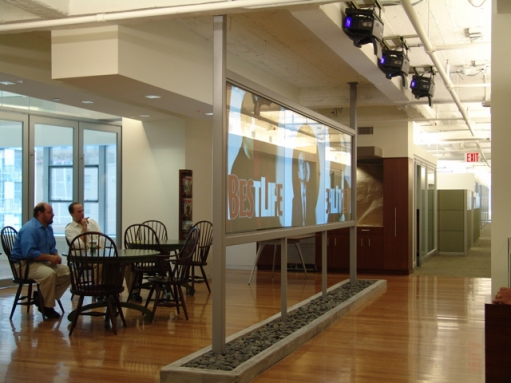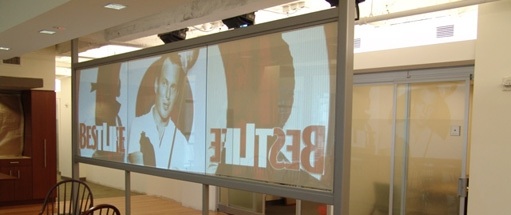 Standard Features
· Flexible optical film – 120 micron.
· Image displayed on both sides
· Perfect colour reproduction
· High definition / contrast images
· Peak gain – 5.7
· No hot spots – even brightness
· Works in high ambient light
Recommended Applications
· Pubs, Clubs and Bars
· Shops, Shopping Centres and Malls
· Exhibitions / Conferences
· Auditoriums / Churches
· Advertising / Information displays
· POS / store window displays
360° Screens
Ideal for positioning in the Centre of a room to be seen from all areas.
ProDisplay Cyprus Innovative Display Solutions
We'd Love To Provide You With A Quote Or More Information About Our Screen Technology.